Wear resistant internal surface coating provides an extremely efficient way to protect internal surfaces of piping like bends, elbows or nozzles. WCCoCr 86-10-4 is one of the best wear resistant coatings known. But it is quite rarely used for piping because just a couple of years ago engineers were limited with a minimal diameter of 400 mm (16") in tungsten carbide coating applications.
The situation has changed with the development of internal diameter spray guns, like the AK-ID. They can spray into small diameters (starting from 80 mm|3.15"), up to 1,500 mm | 5' deep and our customers and we have already sprayed many different parts with it.  Our AK-ID sprays 1,100 HV coatings with less than 1% porosity in really tight diameters and the spray rate of 60-80 gram per minute looks like an achievement for the people accustomed to older technologies. But we wanted more.
We wanted to spray bulk-like tungsten carbide coatings, harder than 1,200 HV0.3 onto internal surfaces. We have not achieved it for an 80 millimeter ID. Carbide needs more distance to spray well. So, our new AK5-ID starts spraying internal diameters from 200 mm (8"). And it is not limited in depth.
A Compact High Velocity System for Internal Surface Coatings
Our AK5-ID gun can deposit a coating onto a flange face 500 mm in diameter or a 12-meter long pipe spool. Spray rate is 15 kg (33 lbs.) of tungsten carbide per hour; it can deposit 40-50 microns of tungsten carbide coating per pass. No carbide decomposition. The applied coating has the highest adhesion one can measure. This robust gun can spray full shift non-stop if needed – just add powder!
Good enough?
We made it even better!
A Rotating HVAF Gun Spraying into 200 mm (8") Internal Diameters
We have developed a rotating version of the gun. So if you cannot rotate the part – you can rotate the gun inside. We make swivel guns to order, with the length needed for the application. As a member of the Kermetico family, the AK5-ID can be integrated into any of our control consoles.
Tungsten Carbide Internal Surface Coatings
If you are reading this article, you probably have some abrasion issues to deal with. It usually not a problem to resust corrosion, but if couples with abrasion too, you need something tough.
Our AK5-ID sprays tungsten carbide layers into 200 mm internal diameters at the rate of 250 g/min. Is it a lot? Well, it allows applying a 150 micron coating onto 1 square meter (12 square feet) of an internal surface in less than 20 minutes. And you can run several guns at once if you have mass production.
Abrasion Resistant Steel Piping
Abrasive wear within pipe transportation systems occurs when hard particles are forced against or slide along the wall of the pipe. The loss of material is the result of the hard, sharp angular edges producing a cutting or shearing action on the pipe wall, which in extreme cases can result in pipe leaks and even failure, or significant maintenance costs and downtime for pipe replacement.
For these abrasive applications, mild steel pipe is not tough enough to stand up to the abuse for more than a year or two and in some cases the pipe may have a shorter life span. As a result, maintenance engineers are seeking superior piping alternatives to reduce maintenance and prolong system life, at a price point that will not significantly impact the budget.
Spraying extremely hard tungsten carbide coatings onto internal surfaces protects pipes from almost any kind of abrasive wear.
Hardfacing of Bends and Elbows
Impact abrasion, where a slurry meets the inner pipe wall at closer to 90° such as at the bends, elbows, laterals or tees in the system, has a decidedly unwelcome effect on the inner wall of the pipe.  At sharper angles, abrasive material actively "chips" away at a more brittle inner wall, eroding the surface from the inside out.
As Michigan Thermal Spray testing has shown, HVAF WC-10Co-4Cr works as hard and ductile material, resisting abrasion both at 90° and at shallow angles.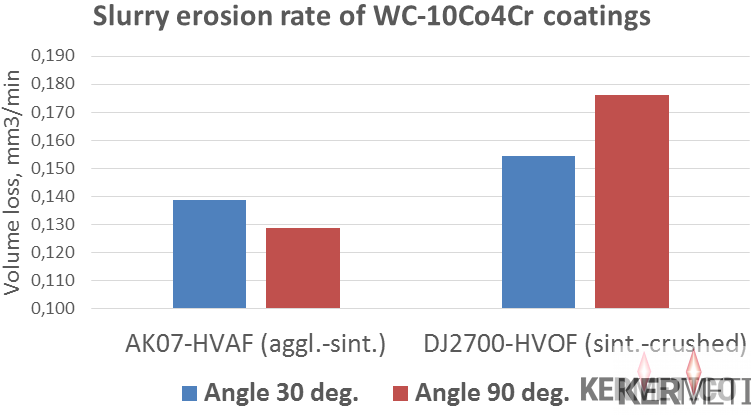 Courtesy of Michigan Thermal Spray, 2016
Our HVAF and HVOF Thermal Spray Systems
Convertible HVOF and HVAF equipment:
C7– an HVAF/HVOF gun for large parts
C6– a general purpose HVAF-HVOF gun
CID– an HVAF&HVOF gun to spray internal diameters 80 mm (3.15″) and larger
Multi-purpose HVAF AK systems, with a variety of spray guns:
Specialized equipment:
SL– a specialized gun for spraying low melting point metals
SP– a dedicated gun for the most efficient precious metals' deposition
STi– a specialized gun for the deposition of titanium and Ti-alloy coatings
Kermetico, Inc. – Design and Manufacture of Thermal Spray Equipment Since 2006
We produce complete high velocity air and oxy fuel systems. Since our incorporation in 2006, we have installed more than 60 systems in the USA, Europe, Japan, and China.
Some of the systems are at work in Universities and National Labs, but most of them are used in production thermal spray shops.
We equip our systems with different spray guns; they are reliable and technologically efficient.
We proudly design and produce our high velocity thermal spray equipment in the USA and install it all over the world.
You are welcome to visit our R&D center in Benicia to meet our designers and see our equipment in action.