Kermetico HVAF technology and equipment provide a way to apply gas-tight, hard and ductile tungsten carbide pump plunger coatings. Numerous researchers have pointed out that Kermetico HVAF coatings work several times longer than electrolytic hard chrome or HVOF rivals.
Kermetico HVAF allows spraying of highly wear resistant coatings, impermeable and chemically resistant to corrosive gases.
The high ductility of our coatings reduces the risk of cracking if flexed and provides loading stress resistance, while the optimal surface structure provides superior wear resistance.
Compared to traditional electrolytic hard chromium plating, our plunger coatings are characterized by significantly higher wear resistance and the absence of hydrogen embrittlement of high-strength steels.
The Features of Our HVAF Coating Technology
Kermetico High Velocity Air Fuel (HVAF) technology has been shown to be very competitive as an environmentally friendly alternative to electrolytic hard chromium (EHC).
The ecological aspects and shorter processing time reduce processing costs.
An option to apply thicker layers provides a way to repair heavily worn components.
Kermetico HVAF carbide coatings are also superior to conventional HVOF counterparts regarding wear resistance, corrosion protection and production cost. The high velocity of our HVAF in-flight particles (higher than 1,000 m/s | 3,300 ft./sec.) ) enables the production of very dense coatings.
Moreover, the low combustion spraying temperature (1,960-2,010 °C | 3,560-3,650°F) and gentle particle heating lead to minimal feedstock phase transformation and almost nonexistent elemental depletion/decomposition of the in-flight particles.
Furthermore, the replacement of pure oxygen necessary for HVOF with air in our HVAF process significantly reduces the oxide content of the coatings, which is desirable for high-performance coatings.
The Features of Our HVAF and Typical HVOF Tungsten Carbide Plunger Coatings
WC-10Co-Cr Coating
Typical HVOF
Kermetico HVAF Gun Modes
Economy
Balanced
Ultra
Deposition efficiency, %
40-55
60-70
48-58
36-42
Hardness, HV300
1,050-1,250
1,050-1,250
1,250-1,350
1,450-1,600+
Young's Modulus E, GPa
300
400
450
450
Apparent metallographic porosity
<0.8
<0.8
<0.5
<0.1
Bond strength, MPa (PSI)
80+ (12,000 +)
Range of as-sprayed roughness, µm

µ in.

        3.5-4.5

150-180

1-3.2

40-130
Kermetico HVAF and HVOF Plunger Coating Equipment
The traditional thermal spray approach is to melt and atomize the feedstock, propel it to the surface of the target part and build up a coating by the process known as 'splat cooling.'
The Kermetico HVAF process operates on a different principle "heat slowly, spray faster."
We heat the feedstock material to near its liquid phase temperature without exceeding it.
Then we accelerate the particles to an optimized high velocity, and when the particles impact the substrate, there is a rapid conversion of kinetic to thermal energy that allows for the plastic deformation of the particle and a bond that we cannot accurately measure.
In the ASTM 633C bond test, the only result we get is broken glue, even with 0.040" (1 mm) of WCCo 88/12.
A Case Study of a Chevron Pump Plunger Coating Repair
Background: This case study is about a three-piston plunger pump used to pump a corrosive slurry consisting of water and various unspecified petroleum products and byproducts with varying amounts of particulate.
The first time we saw the plungers was October 4, 2011.  The set of three arrived with a NiCrBSi fused coating applied by others.  We were told that the plungers had been in service for only a year.  Here is what they looked like:
One can easily see the wear pattern here.
A close up shows the nature of the plunger coating wear.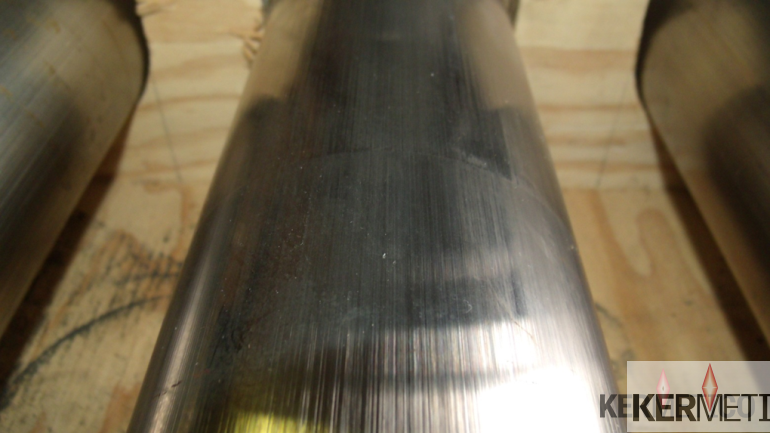 The scoring from particles trapped between the plunger and the packing led to leakage and the need to repair them.
The Plunger Coating Repair Process
We ground off the old fused coating and found that one of the three had to be taken well below finished dimension to remove the original coating.
To keep the price of the job within reason we:
Built up a layer of NiBSi 0.45 mm (0.018") thick
Sprayed a layer of tungsten carbide cobalt chrome (WC-10Co-4Cr) 0.40 mm (0.016") thick
Finished ground back to 0.25 mm (0.010") thick per side
The other two were repaired with only WCCoCr and finished to a thickness of 0.25 mm (0.010") per side.
Here's how they typically looked during processing: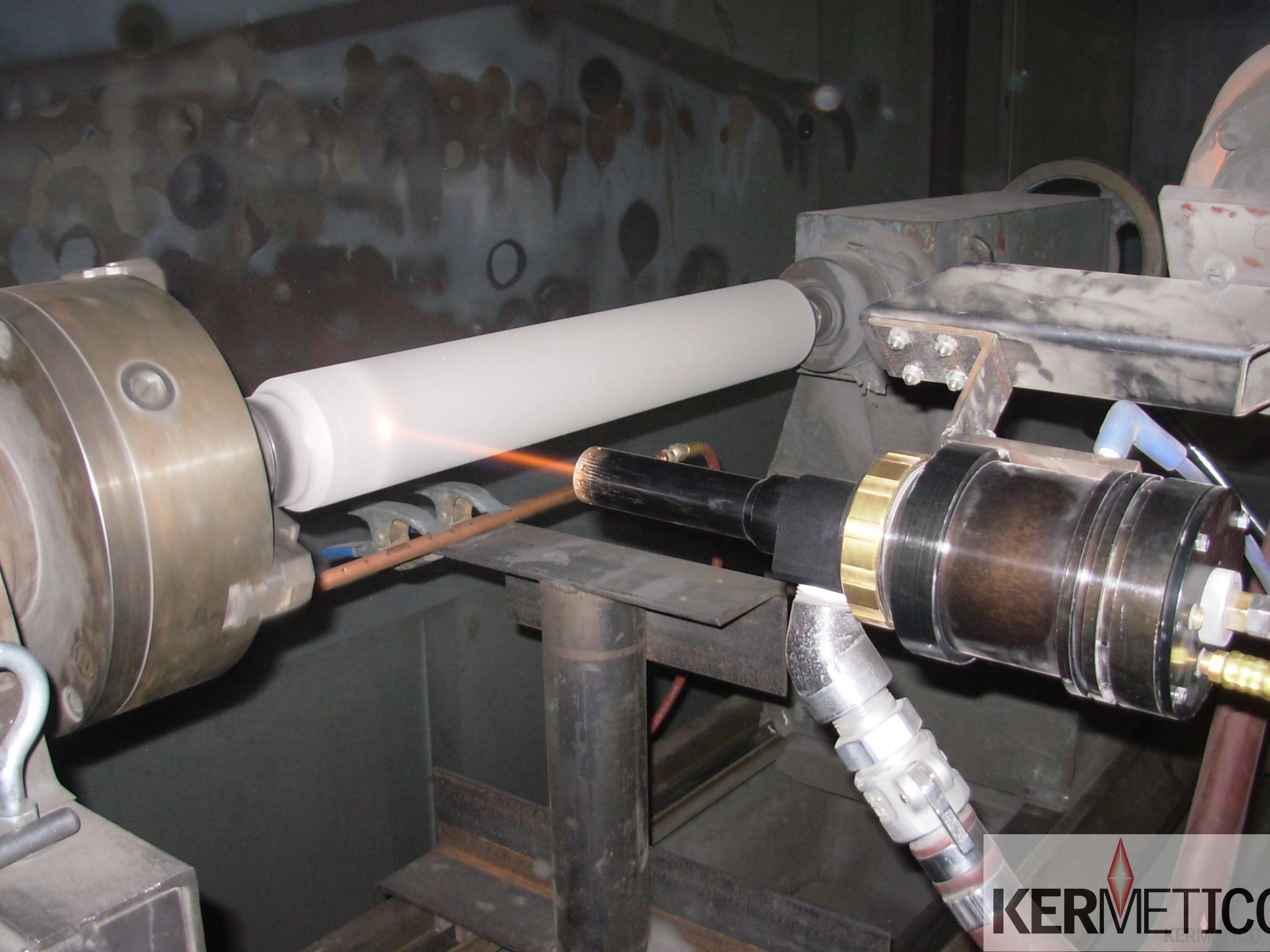 And here is how they looked after grinding ready to go back into service: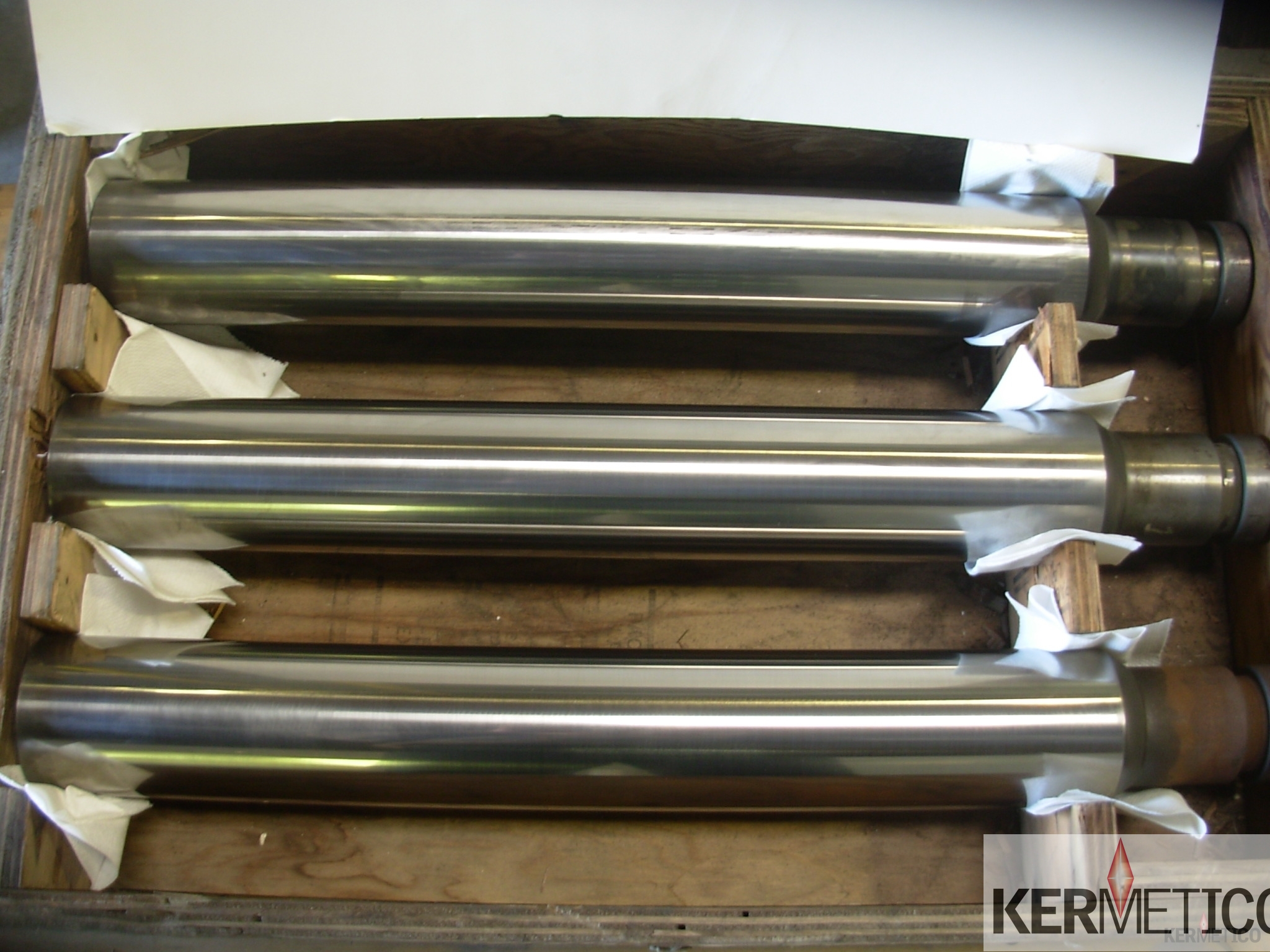 That was the last time we saw them until March 24, 2016, when two of the original three were returned for re-servicing.  Why only two?  I'll get to that in a moment.
Here is what one of the two returned plungers looked like after 4.5 years of service.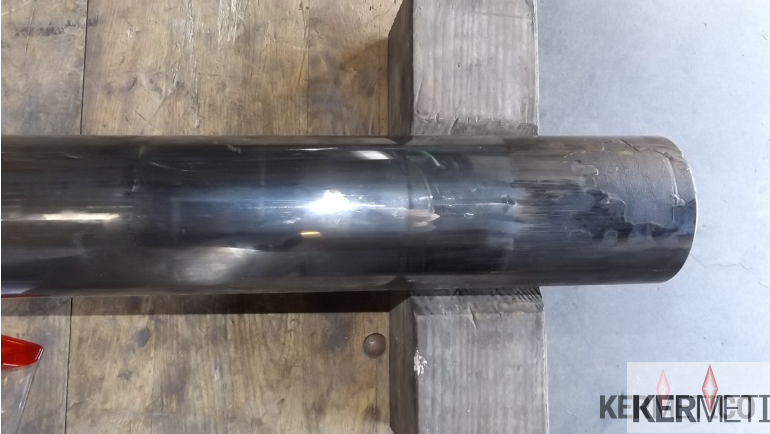 The second one only had some minor issues: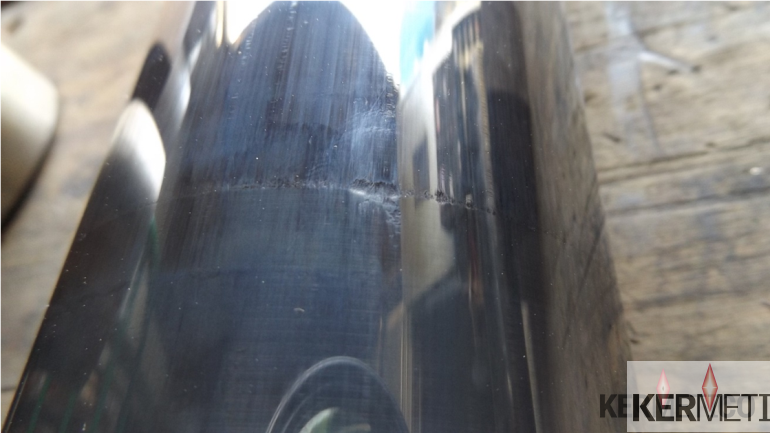 The first plunger failed because the seal (packing) lost lubrication and the plunger overheated severely.  This was the plunger that required a layer of Ni to reduce the thickness of carbide applied.  The carbide failed at the Ni layer.  The second plunger has also lost lubrication but much later than the first one.  The defect you see is from high-pressure slurry escaping from under the seal and eroding the coating much like high-pressure water jetting.
The third unit has not had a lubrication failure and is still in service.
The Results of Hard Coating
Measurements of the failed plungers in areas where there was no erosion or coating failure due to overheating were IDENTICAL to the finished dimensions when they left our shop in 2011.
Zero wear suggests that if the lubrication system hadn't failed these plungers would have been in service for many more years.  We will update this case study if ever one of the plungers shows up in our shop.
The sleeves that hold the packings that these plungers ride in have pretty much the same story.  Two of the three failed, and the one that didn't have lubrication problems is still in service. We will be coating the ID of those two, and they will become spares.
The two sleeves in for repair did have a little less than 0.001" of measurable wear in the area where the packing sits.  The wear was caused by the packing getting loose and moving with the piston.  There is also evidence of some 'water jetting' damage as well.
And the best part is that the coating of WCCoCr 86-10-4 that we are applying today is significantly better than the coating that we have applied to these plungers.
Back then the hardness was in the range of 1,350-1,375 HV300, and today it is in the range of 1,450-1,600+ HV300.
Blasting and Spraying Plungers with Kermetico High Velocity Equipment
Usually, we deposit coatings using robotic blast and spray operations.
We blast a surface with a Kermetico HVAF gun (it is extremely fast and uniform) and spray with the same gun after switching the powder feed hose and perhaps changing the nozzle
It is much faster, more accurate and consumes much less grit than manual blasting.
It also provides very even surface preparation and induces less stress into the base metal.
Kermetico HVAF Thermal Spray Coating Equipment
Kermetico designs and manufactures HVAF and HVOF thermal spray equipment.
Convertible HVOF and HVAF equipment:
Multi-purpose HVAF AK systems, with a range of spray guns:

AK7 – a high-power gun for the thermal spray of large parts
AK6 – a carbide gun to spray a balanced mix of parts in a job shop

– recommended for plungers

HVAF Compact – recommended for small plungers
AK5 – a compact gun to spray smaller parts, thin walls and complex surfaces
AK-ID – an 80 mm (3.15") and larger internal diameter spray gun
AK-IDR – a rotating ID gun to spray 4" (100 mm) and larger bores –

recommended for sleeves

AK-HH – a handheld gun for on-site coating

Kermetico, Inc. – HVAF and HVOF Material Science Excellence, Equipment Manufacturing and Thermal Spray Coating Since 2006

We create equipment that helps material scientists, engineers and business managers achieve their goals.

We have installed more than 60 Kermetico HVAF and HVOF systems in the USA, Europe, Japan and China.

Some of the systems are at work in Universities and National Labs, but most of them are used in production thermal spray shops.

We proudly design and produce our HVAF thermal spray equipment in California and install it all over the world.

You can visit our R&D center in Benicia to meet our designers and see our HVAF and HVOF equipment in action.

We also deposit HVAF and HVOF thermal spray coatings for customers in North America – ourselves and through our network of partners.