Kermetico HVAF equipment provides an effective way to protect exhaust fan impellers from abrasive wear.
Kermetico HVAF thermal spray systems deposit ductile, high-bond wolfram carbide coatings as hard as 1,600+ HV300 and as thick as 3mm (0.120").
Our gas impermeable HVAF coatings are superior to any other surfacing technology in dry or wet abrasion protection of exhausters.
Want to know why?
The Abrasive Wear of Centrifugal Impellers
Centrifugal fans provide air for industrial processes like coal and lignite-fired power plants, cement, metal or woodchip manufacturing. Particles present in the air stream wear the fan surfaces.
This wear is induced both by very fine particles, for example, fumes, as well as by large particulate matter such as wood chips. Fan impeller blades are the most severely attacked components. Once they are worn-out, the resulting geometrical alteration can lead to dramatic efficiency drops. Furthermore, balance problems appear, affecting the service life of the ancillary equipment.
The resulting change in operational conditions increases energy and maintenance costs and leads to unplanned plant downtimes.
Advanced wear protection of equipment, as a preventative maintenance measure, reduces overall costs and diminishes the risk of unscheduled outages of exhaust equipment.
Thermal spray coating of a fan reduces severe wear, increases the fan productivity and prolongs intervals between planned repair cycles.
We create Kermetico HVAF tungsten carbide coatings for extreme abrasion, erosion and corrosion conditions where the abrasion resistance of regular steel or conventional abrasion-resistant coatings does not meet the need. The abrasion resistance of the Kermetico HVAF wolfram (tungsten) carbide is a hundred times better than that of regular steel, and many times better than weld overlays.
Kermetico HVAF and HVOF wolfram carbide abrasion resistant coatings lengthen the fan's operational life and significantly reduce the wearing of the impeller and other fan components, which could lead to additional outages and premature repairs.
Surface Treatment to Protect Centrifugal Equipment from Corrosion and Wear
Wolfram carbide coatings deposited by using different high velocity technologies (HVOF, HVAF and Detonation), are extremely wear-resistant. Industry uses tungsten carbide in combination with cobalt, nickel or cobalt-chrome matrices preferably. The erosion and corrosion behavior of wolfram carbide coatings is a key element for the assessment of the coating application.
We use our Kermetico HVAF equipment to deposit tungsten carbide coatings that are wear resistant and tough enough to be effective at all angles of impingement.
We recommend WC-CoCr-bound powders because they exhibit the highest wear resistance coupled with adequate corrosion resistance in any environment except very high pH environments or hydrofluoric acid. Only 100 microns of our WCCoCr coating is gas-tight, protecting a base metal of a fan from corrosive agents as a barrier layer.
A Comparison of Abrasive Wear and Erosion Protection Properties of HVOF and Kermetico HVAF Coatings
Let's review some test results.
Midwest Thermal Spray (MI, USA) performed an analysis comparing the erosion rates of Kermetico HVAF, HVOF and fused coating at different angles.
It is well-known that hard materials resist particle erosion best at shallow angles of incidence, while ductile (tough) materials perform best at nearly right angles of impingement. The test below depicts Kermetico HVAF superiority at both 90° and 30° angles of attack.  In fact, our hard tungsten carbide did better at 90° than at 30° implying that our HVAF coating has ductility heretofore unseen in any carbide coating.
It was not a surprise for us because we have seen this result in previous research.
The following charts are a courtesy of the Central Power Research Institute of India.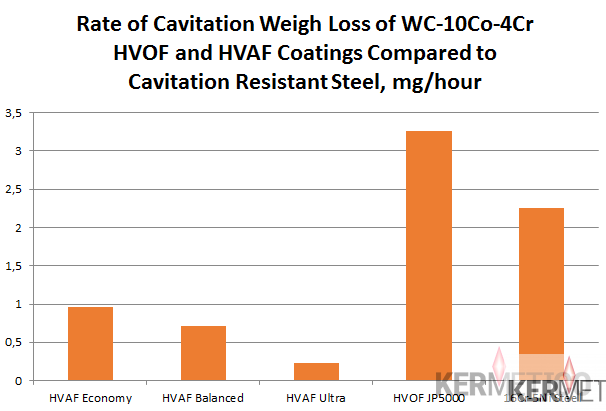 Could the reason for this result be that our coatings are being compared to less than the best available coating equipment or operators?
You may also be interested in a comparison of Kermetico HVAF WCCoCr coatings with one of the most advanced HVOF systems on the market, with HVOF specimens being sprayed in the equipment developer's headquarters.
Are you interested in how our HVAF equipment provides such outstanding results?
A Scientific Research of Kermetico HVAF Coatings
As Prof. Wang has shown in his article "Wear and corrosion performance of WC-10Co-4Cr coatings deposited by different HVOF and HVAF spraying processes":
"Three WC-10Co-4Cr coatings were deposited by HVOF and HVAF processes, and their microstructure and properties were investigated in this study. The following conclusions were drawn as a result.
(1) The WC-10Co-4Cr coating deposited by the HVAF spraying process exhibited nearly the same phase composition as its initial feedstock powder, which included mainly the WC and some Co3W3C and crystal Co phases with nearly no decarburization. The JK coating sprayed with Jet Kote III-HVOF equipment exhibited the most severe decarburisation with high-intensity W2C and even metallic W phase. The phase composition of the JP coating deposited by the JP8000-HVOF system was composed of primary WC and minor W2C peaks and exhibited a light degree of decarburisation.
(2) The wear resistance and mechanism of the HVOF/HVAF-sprayed coatings were influenced not only by their hardness but also by their fracture toughness. The high hardness of carbide coating could effectively hinder the cuts caused by the abrasives, and their high toughness could make the binder absorb some of the energy caused by abrasive attacks with some degree of plastic deformation.
(3) The WC-10Co-4Cr coatings, which had different degrees of decarburisation, exhibited different dominant wear mechanisms.
(4) The electrochemical corrosion resistances and mechanisms of HVAF- and HVOF-sprayed WC-10Co4Cr coatings were influenced by their phase compositions and microstructures."
Scientists tell us that HVAF provides better wear and erosion resistance than HVOF. But a lot of companies still use HVOF to protect pumps and other equipment.
But it's not the end of the story.
Blast and Spray with Kermetico High Velocity Equipment
Usually, we deposit coatings using robotic blast and spray operations.
We blast a surface with a Kermetico HVAF gun – it is extremely fast and uniform.
Then we spray with the same gun after switching the powder feed hose and perhaps changing the nozzle
It is much faster, more accurate and consumes much less grit than manual blasting.
It also provides very even surface preparation and induces less stress into the base metal.
Kermetico HVAF Thermal Spray Coating Equipment for Exhaust Fans Protection
We design and manufacture three families of HVAF thermal spray equipment.
Convertible HVOF and HVAF equipment:
Multi-purpose HVAF AK systems, with a range of spray guns:

AK7 – a high-power gun for the thermal spray of large parts –

recommended for exhaust fans

AK6 – a universal gun to spray a balanced mix of parts in a job shop
AK5 – a compact gun to spray smaller parts, thin walls and complex surfaces – 

recommended for exhaust fans

AK-ID – an 80 mm (3.15") and larger internal diameter spray gun
AK-IDR – a rotating ID gun to spray 4" (100 mm) and larger bores
AK-HH – a handheld gun for on-site coating

Specialized HVAF S equipment:
Kermetico Inc. – HVAF and HVOF Material Science Excellence, Equipment Manufacture and Thermal Spray Coating Services Since 2006
We create equipment that helps material scientists, engineers, and business managers achieve their goals.
We have installed more than 60 Kermetico HVAF systems in the USA, Europe, Japan, and China.
Some of the systems are at work in Universities and National Labs, but most of them are used in production thermal spray shops.
We proudly design and produce our HVAF thermal spray equipment in California and install it all over the world.
You can visit our R&D center in Benicia, CA to meet our designers and to see our HVAF equipment in action.
We service customers in North America with HVAF and HVOF thermal spray coating – ourselves and through our network of partners.