Kermetico HVAF equipment provides an efficient way to repair refinery and chemical plant parts worn by erosion, corrosion and abrasion or incorrectly machined.
Our HVAF thermal spray systems deposit ductile, high-bond tungsten carbide coatings as hard as 1,600+ HV300, gas-tight Hastelloy-type, Ni- and iron-based coatings.
Below you can find our records of wear protection and repair of chemical and refinery equipment.
How to Mitigate Abrasive Wear, Erosion and Corrosion of Plant Processing Equipment
When building a new treatment plant, entrepreneurs have one clear goal in mind – organize a continuous process in the most efficient way. Any downtime will result in losses amounting to anywhere from hundreds of thousands to millions of dollars, and unfortunately, equipment damage and failure are regularly the cause of incidents.
Surface coating minimizes equipment damage and related non-productive time. By applying the appropriate coatings to key parts, such as vessels, shafts, stems, sleeves, pump impellers, and valves, operators improve equipment performance and realize improved durability over traditional manufacturing processes, such as manual metal arc (MMA) welding and hard chrome plating (HCP). By reducing the likelihood of a breakdown, and therefore the need for an equipment changeover, plant operators can be confident that their refineries will continue working with fewer equipment-related delays.
Recent HVAF Coating Applications in Chemical, Oil and Gas Industries
The excellent technological and cost efficiency of the Kermetico HVAF processes and improved coating quality generate growing interest of the coating markets, including chemical, oil and gas industries. Kermetico Inc. routinely applies HVAF repair coatings for traditional HVOF applications on valve gates, valve balls and stems, pump shafts, sleeves, packing nuts and cartridges, compressor rods and turbine shafts.
Herewith, we have developed and successfully implemented new repair applications at the Chevron Richmond Refinery (Richmond, CA), Tesoro Golden Eagle Refinery (Martinez, CA), Valero Refinery (Benicia, CA) and ConocoPhillips Rodeo Refinery (Rodeo, CA). We presented some of these below.
A Wear Resistant Coating for the Restriction Grid and Sliding Gate of a Catalyst Tower
The surface of a restriction grid (upper slide plate with orifice) of a catalyst tower is subjected to severe erosion by the catalyst, abrasive wear and corrosion within the range of temperatures from ambient to 315°C (599°F). The guiding surfaces of the sliding gates, spacer bars as well as slide stems experience an abrasive wear attack.
The surface area of the restriction grid plate is typically 1.5 x 1.2 m (47" x 59")  with other parts matching those dimensions. They are all made of alloyed carbon steel.
For a time a Colmonoy 88 type coating with a thickness of 1.0 mm (0.040") (fused on the stem, as-sprayed on the other parts) had been specified for the protection of those surfaces. However, the coating lasted no more than 2.5 years on plates and gates, while the requested performance of 5 years was needed.
We have applied a WC-10Co-4Cr HVAF coating to the requested 0.50 mm thickness for two towers sets  The plates and gates were removed from service after exactly five years, the coating was still intact on all parts. Currently, the customer has listed this coating in the specifications.
HVAF Repair of Pump Impeller Hubs and Housings
In high-temperature pumps, the impeller hubs and housing wear rings are subjected to erosion and cavitation attack. The Stellite-type plasma transferred arc weld overlays are commonly specified in these areas. Our HVAF Stellite 6- type coatings are successfully used for repairs over the overlays. The HVAF-sprayed WC-10Co-4Cr coating on the impeller hubs coupled with the Stellite-6 type coating on the housing wear ring outperforms weld overlays, specifically in the pumps with tight tolerances of the gap between the impeller and the housing. Also, our HVAF coatings cost only ¼ that of weld overlays.
Our Kermetico HVAF Sprayed Cr3C2-25NiCr Coating Outperforms Stellite-Type Weld Overlays on High-Temperature Valve Stems
HVAF sprayed Cr3C2-25NiCr coatings extend the lifetime of thermowells protecting the thermocouples of the catalyst tower. This coating also outperforms Stellite-type weld overlays on high-temperature valve stems.
Coatings Protecting Internal Surfaces of Sleeves, Nozzles, Elbows and Pipes
The Kermetico AK-ID gun deposits high-quality coatings in the harshest environment, spraying internal diameters as small as 3.15 inches (80mm) to a length of 5 feet (1,500 mm) deep. The low power output (just 30 kW) prevents the gun and workpiece from overheating. The efficient design of the gun allows for the effective spraying of tungsten carbide, metals and alloys on internal surfaces.
The Kermetico HVAF AK-ID system is ideal for spraying interior surfaces of pipes, tubes, barrels, and cylinder bores which can be effectively rotated. The gun provides uniform non-permeable wear and corrosion resistant cermet coatings with a spray rate of 5 kg or 11 lbs. per hour, achieving a tungsten carbide coating hardness of 950 HV300 in internal diameters less than 4" and over 1,100 HV300 hardness in 4.0" (100 mm) and larger inner diameters.
Fe-based HVAF Coatings
The Fe-5Ni-28Cr-6Mo-2C HVAF coating (hardness 53-55 HRC) is an effective solution for corrosion and wear problems of valve stems and seats, pump impellers and stainless steel shafts.
Corrosion Protection of a Reflux Distributor
Sometimes it is more efficient to make a new part with a corrosion protective layer than to repair an old one.
A reflux distributor is a good example of such an approach.
An application of a gas impermeable Hastelloy-type coating entirely mitigates corrosion of the part.
Comparison of Abrasive Wear and Erosion Protection Properties of HVOF and Kermetico HVAF Coatings
Slurry erosion test, courtesy of Schlumberger.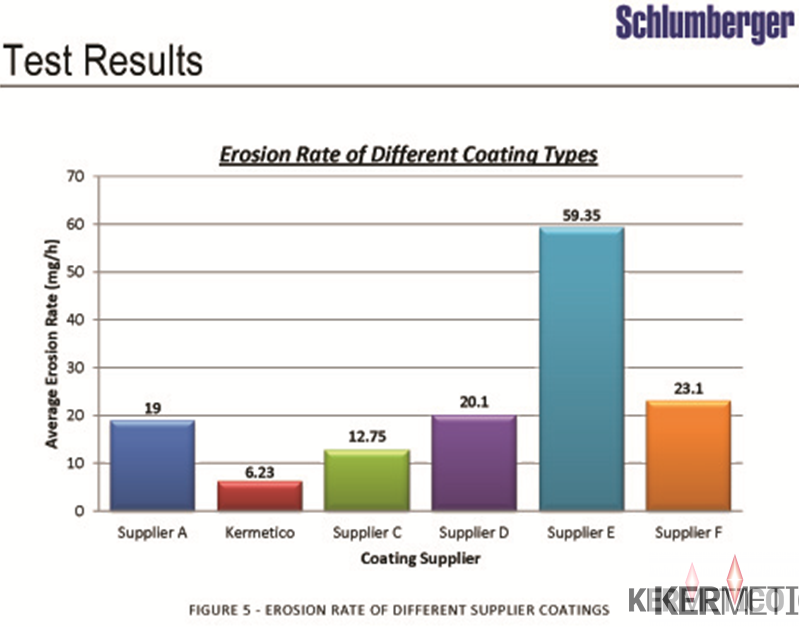 This test compared an Economy mode Kermetico HVAF WCCoCr coating to the coatings of the same material deposited by industry-leading HVOF and detonation systems.
Could the reason for this result be that our coatings were compared to less than the best available coating equipment?
You may also be interested in a comparison of Kermetico HVAF WCCoCr coatings with one of the most advanced HVOF systems on the market.
Blast and Spray with Kermetico HVOF and HVAF Equipment
Usually, we deposit coatings using robotic blast and spray operations.
We blast a surface with a Kermetico HVAF gun (it is extremely fast and uniform) and spray with the same gun after switching the powder feed hose and perhaps changing the nozzle
It is much faster, more accurate and consumes much less grit than manual blasting.
It also provides very even surface preparation and induces less stress into the base metal.
Kermetico HVAF Thermal Spray Coating Equipment
Kermetico designs and manufactures three families of HVAF thermal spray equipment.
Convertible HVOF and HVAF equipment:
Multi-purpose HVAF AK systems, with a variety of spray guns:
Specialized equipment:
Additional equipment:
Kermetico Inc. – Material Science Excellence, HVAF and HVOF Equipment Manufacturing and Thermal Spray Coating Services Since 2006
We create equipment that helps material scientists, engineers and business managers achieve their goals.
We have installed more than 60 Kermetico HVAF and HVOF systems in the USA, Europe, Japan, and China.
Some of the systems are at work in Universities and National Labs, but most of them are used in production thermal spray shops.
We proudly design and produce our thermal spray equipment in California and install it all over the world.
You can visit our R&D center in Benicia to meet our designers and see our HVAF equipment in action.
We also provide HVAF and HVOF thermal spray coating services for customers in the U.S.A. – ourselves and through our network of partners.