Kermetico HVAF equipment provides an effective way to protect impellers and hydro turbines from the harmful effects of cavitation and silt erosion.
Kermetico HVAF systems operate a range of thermal spray guns for coating outer diameters, internal surfaces, and manual spraying to deposit ductile, high-bond tungsten carbide coatings harder than 1,600 HV300.
We would like to share with you results of several studies that have shown substantial advantages of Kermetico HVAF WCCoCr coatings over HVOF deposits in the task of protecting hydro turbines, blades and vanes.
Silt and Sand Erosion and Cavitation of Hydro Turbines and Impellers
Cavitation is a phenomenon which manifests itself on the metallic surfaces of rotating parts. The mechanism of material damage during cavitation is mainly attributed to the implosion of high-velocity bubbles on the component surface leading to a local increase in stresses in excess of the yield strength of the material.
Silt or sand erosion is caused by the dynamic action of the silt or other particles flowing along with water, impacting against a solid surface of turbine vanes and blades.
The erosion and abrasive wear not only reduce the efficiency and the life of the turbine but also cause problems in operation and maintenance, which ultimately lead to economic losses.
Researchers have found that cavitation in a particle flow is more severe than in pure water meaning that the combined effect of silt erosion and cavitation is found to be more pronounced than their individual effects.
The phenomenon of cavitation erosion gets aggravated under high turbulence conditions of fluid flow containing suspended particles.
The majority of particles encountered in hydro turbines are quartz, having a hardness of seven on the Mohs scale.
Different types of hydro turbine equipment suffer from various factors: Francis wheels are subject to silt erosion and cavitation together, while Pelton and Kaplan turbines are subject to silt erosion and corrosion.
A Comparison of Cavitation and Silt Erosion Properties of HVOF and Kermetico HVAF WCCoCr Coatings
Erosion test, courtesy of Schlumberger.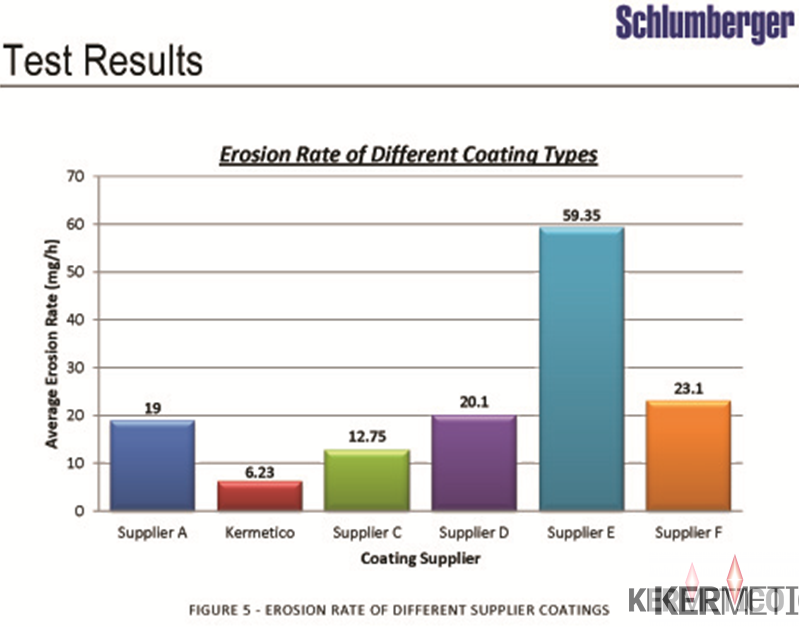 This trial has compared an Economy mode Kermetico HVAF WCCoCr coating to the same material deposited by industry-leading HVOF and detonation systems. The slurry erosion testing has been done by water jet with SiO2 abrasive.
The three following charts are courtesy of the Central Power Research Institute of India.
As a result, the cavitation test has shown the following:
But how did HVAF Balanced and Ultra modes provide such superior results?
Some Results of Hydro Turbines R&D
As R.K. Kumar has shown in his article "Effect of Spray Particle Velocity on Cavitation Erosion Resistance Characteristics of HVOF and HVAF Processed 86WC-10Co-4Cr Hydro Turbine Coatings":
HVAF coatings exhibit lower porosity levels, higher hardness, toughness, and superior cavitation resistance compared to HVOF coating for the same spray powder conditions. The higher toughness values, as well as the consistency in scratch depth results in HVAF coatings, support these findings.
HVAF coatings sprayed with higher spray velocities result in improved toughness and cohesiveness of splat layers of the coating that provides better cracking resistance under bubble implosions. The lower degree of surface damage in the initial cavitation period and the progress of damage during cavitation bubble imploding are noticeably affected by the ability of the CoCr matrix's cracking resistance. The superior cavitation resistance property of HVAF coatings was thus attributed to the increased hardness, toughness, and adequate WC-matrix interface cohesiveness during the prolonged cavitation exposure periods.
The sub-surface damage morphology provides coherent input regarding the ability of binder matrix to sustain the forces of the bubble implosion during cavitation.
The particle velocity appears to play a significant role in achieving a dense coating with an increased level of compressive stresses and gives rise to higher elastic strain energy during indentation.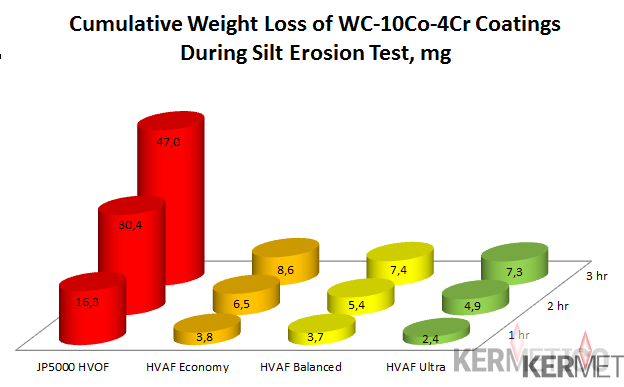 Scientists tell us that HVAF is better than HVOF. But some manufacturers still use HVOF to protect hydro turbines.
Why is that?
Maybe HVAF is extremely expensive?
The Economic Aspects of Kermetico HVAF Coatings
The list price of our HVAF equipment is usually lower than the price of good HVOF equipment.
A comparison of HVAF and HVOF cost per kilogram of deposited WC-10Co-4Cr (prices in Texas, USA).
With Kermetico HVAF thermal spray systems we are not limited to the "best coating possible."
We can choose how to spray a tungsten carbide coating:
save money spraying in HVAF economy mode, getting HVOF quality with lower costs
spray the highest coating quality in HVAF U-mode to get high-hardness, ductile, non-porous, abrasion and cavitation resistant coatings
or choose HVAF Balanced mode to gain a competitive edge in both cost and quality
But it is not the end of the story.
Blast and Spray with Kermetico HVAF Equipment
Usually, we deposit coatings using robotic blast and spray operations.
We blast a surface with the Kermetico HVAF gun (it is extremely fast and uniform) and spray with the same gun after switching the powder feed hose and perhaps changing the nozzle
It is much faster, more accurate and consumes much less grit than manual blasting.
It also provides very even surface preparation and induces less stress into the base metal.
A Hydro Turbine Protection Business Case
We have found that our HVAF process provides a way to protect hydro turbines from cavitation and particle erosion better and at a lower cost than HVOF processes, but those who sprayed WCCoCr in 2015 used mostly HVOF technology.
Why is that?
There are several reasons:
The results mentioned above are quite new, and are not well-known to the industry yet
Companies who already own HVOF equipment do not want to invest in a new system until their old equipment is no longer serviceable
Some people are just reluctant to change, trying to keep "the way we have always done it" way of doing things
Our business is equipment design and manufacturing, we do some in-shop thermal spray in California, but do not work on-site ourselves
That means that a company or person who will adopt this equipment first will have both advantages of higher coating quality and fewer expenses.
Kermetico HVAF Thermal Spray Coating Equipment for Hydro Plant Coatings
Kermetico designs and manufactures three families of HVAF thermal spray equipment.
Kermetico, Inc. –Material Science Excellence, HVAF and HVOF Equipment Manufacturing and Thermal Spray Coating Services Since 2006
We create equipment that helps material scientists, engineers and business managers achieve their goals.
We have installed more than 60 Kermetico HVAF and HVOF systems in the USA, Europe, Japan, and China.
Some of the systems are at work in Universities and National Labs, but most of them are used in production thermal spray shops.
We proudly design and produce our HVAF and HVOF thermal spray equipment in California and install it all over the world.
You can visit our R&D center in Benicia to meet our designers and see our HVAF & HVOF equipment in action.
We also provide HVAF and HVOF thermal spray coating services to customers in North America – ourselves and through our network of partners.
Literature
"Effect of Spray Particle Velocity on Cavitation Erosion Resistance Characteristics of HVOF and HVAF Processed 86WC-10Co4Cr Hydro Turbine Coatings", K. Kumar, M. Kamaraj, S. Seetharamu, T. Pramod, and P. Sampathkumaran, 2016
"Cavitation and Sand Slurry Erosion Resistances of WC-10Co-4Cr Coatings", Qun Wang, Zhaoxi Tang, and Limei Cha 2015