Kermetico HVAF thermal spray stainless steel coatings provide much better corrosion protection for oilfield submersible pump housings than conventional TWAS (Twin Wire Arc Spray) Monel* layers at a lower cost.
The hardness of a TWAS Monel coating is 20-22 HRC, super stainless – 56-60 HRC.
The porosity of a TWAS Monel coating is 15-20%, while our HVAF super stainless layer has less than 1%.
Monel is much nobler than steel, resulting in electrochemical corrosion in the case of coating failure. Super-Stainless has about the same electrochemical potential as the base metal, minimizing this risk for submersible pumps.
150 microns (0.006") of an HVAF iron-based coating protect ESP housings better than 250 (0.010") microns of TWAS Monel + 150 (0.060") microns of Epoxy with half the cost.
Stainless Steel vs. Monel+Epoxy in Corrosion Prevention of Artificial Lift Pump Housings
Electrical Submersible Pumps suffer from corrosion in oil wells.
The typical corrosion factors include galvanic corrosion, CO2 and H2S corrosion at elevated temperatures of 90-120°C (194-248°F). And making ESP housings from bulk stainless steel is not economical.
The duplex Monel + epoxy coating was developed more than 30 years ago to insulate ESP housing from aggressive oilfield environments. It works as long as the epoxy layer keeps its continuity because arc or flame-sprayed Monel coatings are too porous to isolate the base material thoroughly.
Epoxy is soft. The handling of sub-pumps during a well completion frequently results in coating damage.
Electrochemical corrosion starts as soon as the fluid reaches the ESP base metal due to a coating failure.
Since the coating is the cathode and the exposed steel substrate is the anode, a poor anode/cathode ratio results in the rapid development of galvanic corrosion.
There are cases where pump failure happens in some weeks after completion due to galvanic corrosion.
Iron-based high-velocity stainless steel coatings were developed by our Russian partner, TSPC, at the beginning of the XXI century and quickly become standard in the Russian oilfields with the most aggressive environments. The coating exhibits bond strength over 80 MPa (12 KSI), porosity less than 0.5% and hardness of 56-60 HRC.
Applied to 6 mils (150 microns) thickness, it is non-permeable to gas and liquid, and flexible enough to withstand deformation of long and thin parts during handling and service.
The coating's performance is proven in industry, where over 48,000 meters (30 miles) of housings have already been protected during the past few years. Current coating production exceeds a hundred new pumps and motors per month.
Virtually no corrosion failures of housings with this stainless coating have been recorded.
The Properties of Kermetico HVAF Stainless Steel Coatings
Fe-based super stainless coatings are better than Monel in hardness, density, bond strength and cost.
The only reason that Monel coatings are still applied somewhere – some old standards and Monel coating facility managers who are trying to gain the maximum profit from their old equipment.
Kermetico HVAF Fe-based Coatings for Submersible Pumps
We manufacture equipment for the highly productive removal of old coatings, surface preparation and thermal spray coating application.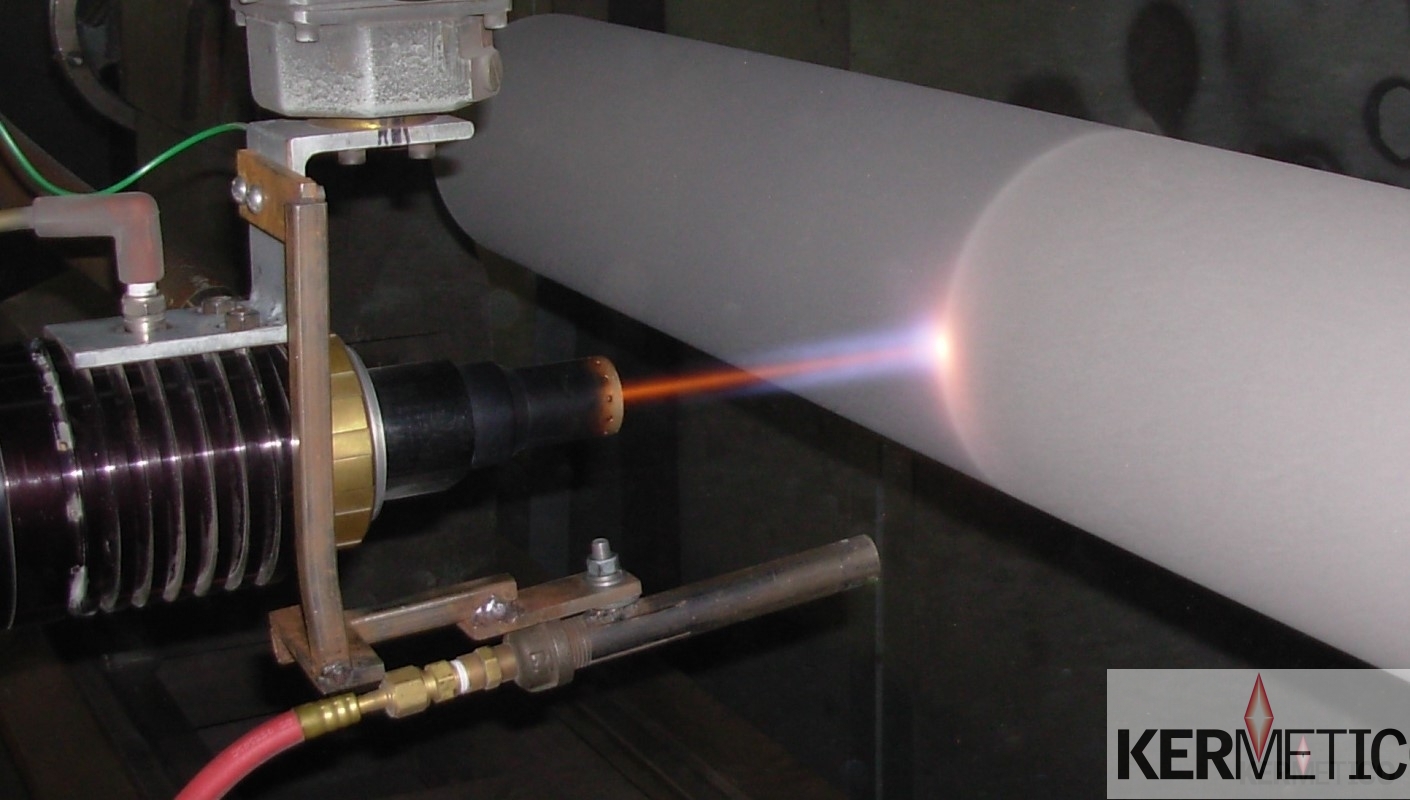 We recommend Kermetico HVAF equipment to thermal spray wear and corrosion resistant coatings for ESP's because:
It deposits high-quality coatings:

Minimized oxidation due to spraying with air and lower combustion temperatures
High bond and low porosity due to higher particle velocity

It is fast and inexpensive:

A spray rate of 260 g/min (35 lbs./hr.) for stainless steel
The low combustion temperature and the relatively large nozzle diameter compared to the spray particle stream result in the long life of spare parts
HVAF grit blasting makes the blasting process 10 times faster with 100 times less grit consumed in comparison to conventional blasting processes

It is mobile-friendly:

No water chiller – we cool the guns with the same air we use for combustion
Kermetico HVAF equipment is reliable and robust, designed for on-site jobs

It is safe and easy:

Technologically efficient system combusts various fuels and forgives many operator's mistakes
The absence of fumes of sprayed powders makes the Kermetico HVAF coating process less hazardous

We have developed some valuable options for repair jobs:

Blast-and-spray grit feeder
Manual Kermetico AK-HH gun for hand-held coating
Instant Gas Permeability Tester to check coating through porosity on-site
Blasting and Spraying ESPs with Kermetico High Velocity Equipment
We recommend the protection of submersible pumps using robotic blast and spray operations.
We blast an ESP housing's surface with a Kermetico HVAF gun (it is extremely fast and uniform) and spray with the same gun after switching the powder feed hose and perhaps changing the nozzle.
It is much faster, more accurate and needs much less grit than manual blasting.
It also provides very even surface preparation and induces less stress into the base metal.
Coatings for the Repair of Submersible Pump Drives
While it is not feasible to repair a pump coating, ESP drives are different. A corroded ESP drive or a drive with a failed coating could be successfully protected with our HVAF stainless steel coating.
To repair ESP drives, we:
Remove the old layer, if needed, or blast the corroded surface with HVAF blasting
Inspect the surface to double-check its feasibility for coating
Thermal spray the stainless steel coating
Finish (seal or paint) the coating according to a customer standard, if needed
Kermetico HVAF Thermal Spray Coating Equipment
Kermetico designs and manufactures three families of HVAF thermal spray equipment.
Convertible HVOF and HVAF equipment:
Multi-purpose HVAF AK systems, with a range of spray guns:

AK7 – a high-power gun for the thermal spray of large parts

– recommended for submersible pump coatings

AK6 – a gun to spray carbides onto a balanced mix of parts in a job shop
AK5 – a compact gun to spray smaller parts, thin walls and complex surfaces
AK-ID – an 80 mm (3.15") and larger internal diameter spray gun
AK-IDR – a rotating ID gun to spray 4" (100 mm) and larger bores
AK-HH – a handheld gun for on-site coating

Specialized HVAF S equipment:
Kermetico, Inc. – Material Science Excellence, HVAF and HVOF Equipment Manufacturing and Thermal Spray Coating Services Since 2006
We create equipment that helps material scientists, engineers, and business managers achieve their goals.
We have installed more than 60 Kermetico HVAF systems in the USA, Europe, Japan and China.
Some of the systems are at work in Universities and National Labs, but most of them are used "at work" in production job shops.
We proudly design and produce our HVAF thermal spray equipment in California and install it all over the world.
You can visit our R&D center in Benicia to meet our designers and see our HVAF equipment in action.
We also service the U.S. customers with HVAF and HVOF thermal spray coatings – ourselves and through our network of partners.
*Monel is a trademark of Special Metals Corporation.