Kermetico HVAF technology and equipment provide a way to improve the surface quality of valve stems with impermeable, hard and ductile coatings.
Numerous researchers have pointed out that the low oxide content and the low porosity exhibited in Kermetico HVAF coatings result in higher resistance to sliding wear and corrosion.
The Abrasive Wear of Valve Stems
According to the European Sealing Association [1], approximately 70% of the total chemical plant emissions originate from valve stems. An increased environmental awareness and high costs caused by media losses require the minimization of these emissions.
Unsuitable stem surfaces often cause severe abrasive wear on seals. This wear can damage a seal permanently so that after a few stem movements high rates of leakage can occur from the stuffing box. With the application of surface coatings and surface treatments, the physical properties and therefore the essential functioning of valve stems can be enhanced significantly.
The Material Choices for a Valve Stem Coating
An iron-based coating is an inexpensive feedstock for material build-up in non-aggressive environments.
Cobalt based Stellite-type and nickel based Hastelloy-type coatings provide a high degree of corrosion resistance. Stellite-type coatings offer low friction and high wear resistance, while Hastelloy-type layers are also extremely corrosion resistant making it suitable for sliding applications in chlorine and other acidic environments.
Cemented carbide coatings are ceramic-metal composites, or cermets, in which the metallic phase retains the carbide particles during deposition. WC-CoCr and Cr3C2-NiCr provide wear resistance and can be applied using conventional high velocity processes.
However, the excess heat can decarburize the carbide particles during deposition causing oxidation of the carbide phase into more brittle forms. While this may not reduce the hardness of the coating, it will adversely affect its cohesive strength and toughness.
The Features of Kermetico HVAF Coatings
The Kermetico High Velocity Air Fuel (HVAF) process has been shown to be competitive in applying metal and carbide coatings.
Kermetico HVAF carbide coatings are superior to HVOF rivals regarding wear resistance, corrosion protection and production cost. The high velocity of the in-flight particles (higher than 1,000 m/s | 3,280 ft./sec.) in the Kermetico HVAF process enables the production of dense coatings with high bond strength.
Moreover, the low combustion temperature (1,960-2,010°C  | 3,560-3,650°F depending on fuel gas) and gentle particle heating lead to minimal feedstock phase transformation and almost nonexistent elemental depletion or decomposition of the in-flight particles.
Furthermore, the replacement of pure oxygen in an HVOF process with air in the Kermetico HVAF process significantly reduces the oxide content in the coatings which is desirable for high-performance coatings.
The Features of Kermetico HVAF and HVOF Tungsten Carbide Coatings
WCCoCr 86/10/4 coating Feature
Typical HVOF
Kermetico HVAF Modes
Economy
Balanced
Ultra
Deposition efficiency, %
40-55
60-70
48-58
36-42
Hardness, HV300
1,050-1,250
1,050-1,250
1,250-1,350
1,450-1,600+
Young's Modulus E, GPa
300
400
450
450
Apparent metallographic porosity
<0.8
<0.8
<0.5
<0.1
Bond strength, MPa (PSI)
80+ (12,000 +)
Range of as-sprayed roughness, µm (µ in.)
3.5-4.5 (150-180)
1-3.2 (40-130)
Numerous studies of Kermetico HVAF sprayed metal coatings have shown their high corrosion resistance in different environments such as acid, alkaline, and chloride solutions. They have also reported high-quality microstructures with low oxide content, high retention of the powder chemistry and low porosity.
Notes on Kermetico HVAF Equipment
The traditional thermal spray approach is to melt and atomize the feedstock, propel it to the surface of the target part and build up a coating by the process known as 'splat cooling.'
The Kermetico HVAF process operates a little differently.
We heat the feedstock to near its liquid phase temperature without exceeding it.
Then we accelerate the particles to an optimized high velocity. When the particles impact the substrate, there is a rapid conversion of kinetic to thermal energy that allows for plastic deformation of the particle and a bond wich we cannot accurately measure.
In the ASTM 633C bond test, the only result we get is broken glue, even with 0.040" (1 mm) of WCCo 88/12.
There are two factors here that need to be understood.
The first is coating quality: regardless of the HVAF gun you choose and the size of the part, you will get a good coating.
The second – you need to choose the Kermetico HVAF gun carefully to get the best efficiency from its power.
Using a high power gun (AK7) on a small part, you will have a long cooling time between passes and consequently a job cost that was higher than it needed to be.
Using a compact gun (AK5) for a large part, you will have a low 'spot' temperature, and this will give you a low DE (deposit efficiency) making the job more costly than necessary.
You could choose an AK7 for 1,400 mm (55") parts or an AK6 for 50 mm (2") parts or an AK5 for <25 mm (1") parts.
The Surface of a Polished Stem with a Kermetico HVAF Tungsten Carbide Coating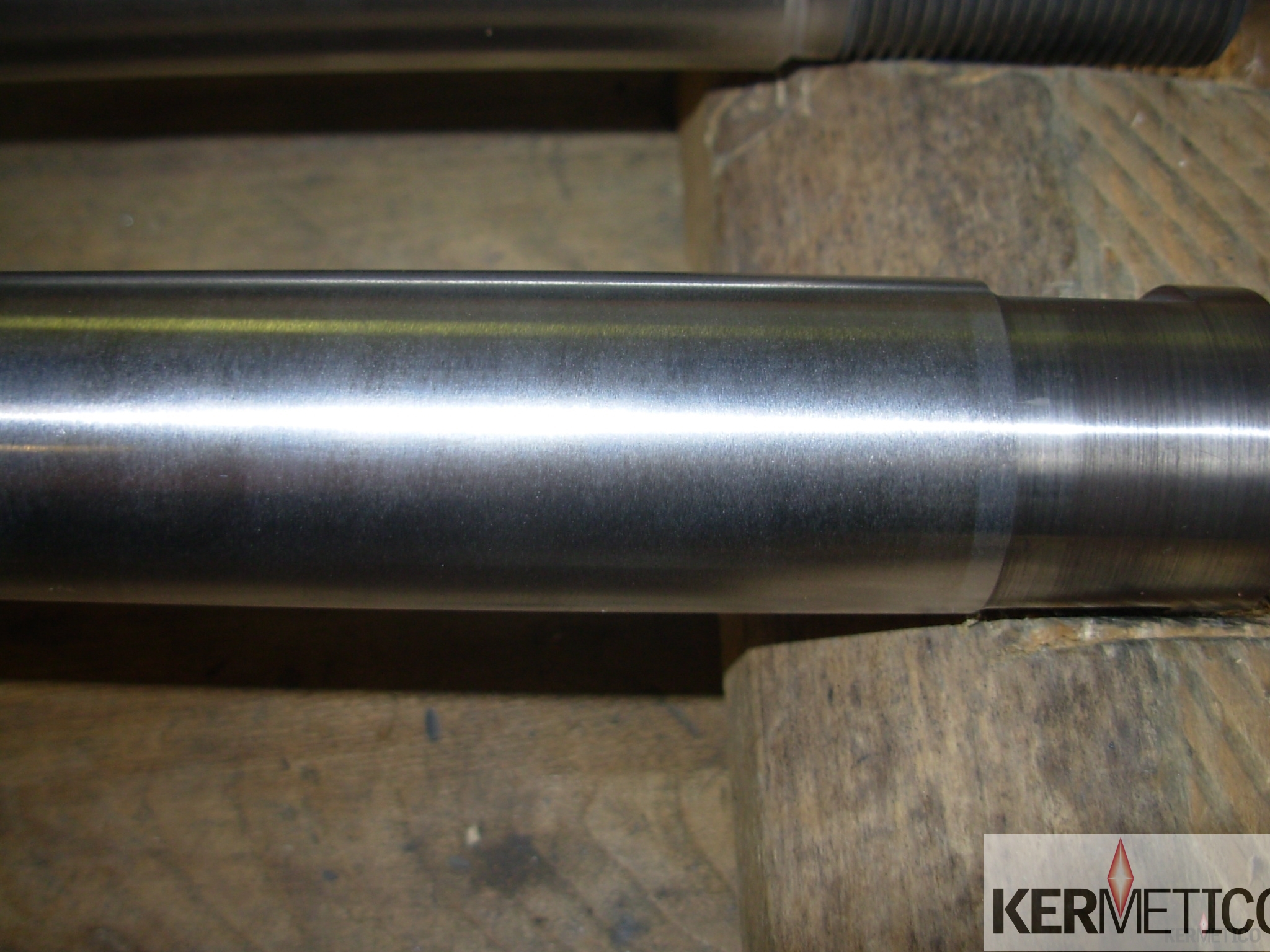 Blast and Spray with Kermetico High Velocity Equipment
Usually, we deposit coatings using robotic blast and spray operations.
We blast a surface with a Kermetico HVAF gun (it is extremely fast and uniform).
Then we spray with the same gun after switching the powder feed hose and perhaps changing the nozzle
It is much faster, more accurate and needs much less grit than manual blasting.
The HVAF grit blasting also provides very even surface preparation and induces less stress into the base metal.
Kermetico HVAF Thermal Spray Coating Equipment
Kermetico designs and manufactures three families of HVAF thermal spray equipment.
Kermetico, Inc. – Material Science Excellence, HVAF and HVOF Equipment Manufacturing and Thermal Spray Coating Services Since 2006
We create equipment that helps material scientists, engineers and business managers achieve their goals.
We have installed more than 60 Kermetico HVAF and HVOF systems in the USA, Europe, Japan and China.
Some of the systems are at work in Universities and National Labs, but most of them are used in production thermal spray shops.
We proudly design and produce our thermal spray equipment in California and install it all over the world.
You can visit our R&D center in Benicia to meet our designers and see our HVAF and HVOF equipment in action.
We also deposit HVAF and HVOF thermal spray coatings for customers in North America.
Literature
"Optimizing stem seals performance in valves by means of surface coating." Reinhard Präbst, European Sealing Association, 2013.