Thermal spray coatings provide an efficient way to protect flat surfaces from abrasion, erosion or corrosion. Some areas were too big to justify coating with conventional technologies.  An appearance of Kermetico HVAF equipment and technology has changed the situation.
Ultra-quality ductile 1,450 – 1,600+ HV300 Kermetico HVAF WC-10Co-4Cr coatings provide a new level of a flat surface wear protection resulting in consistent coating quality and longer overall equipment life.
Higher deposition efficiency, herewith spray rates that are 5-fold faster than HVOF increase process efficiency offering a substantial cost advantage for a spay shop using Kermetico equipment.
The mobility of Kermetico HVAF equipment offers even more benefits for on-site spraying.
A Comparison of HVAF and HVOF Coatings for Flat Surfaces
Contrary to HVOF, the spray rate of Kermetico HVAF AK equipment is not restricted by the system limitations. We spray as fast as we can move the gun along a surface.
Kermetico HVAF systems spray 15-20 kg of WC-based coatings per hour (33-44 lbs./hr.) onto large surfaces, and it is not limited by the system – it could spray faster. We are limited only by the traverse speed, while HVOF has both gun and traverse speed limitations and cannot spray more than 3-5 kg/hour.
Propane and propylene HVOF Spray rates for metals are limited to 4 kg/hour (9 lbs./hr.). Use higher spray rates, and the DE goes down dramatically, herewith the quality.  Maybe, with Hydrogen one may get 5 kg/hour (11 lbs./hr.) for metals.
Note, that spraying metals with HVOF is quite difficult because of nozzle clogging. The "busy cycle" is terrible – imagine frequent nozzle change in the water-cooled gun….
There is no such problem as nozzle clogging in Kermetico HVAF equipment, and we spray 22 kg (50 lbs.) of Fe-based materials per hour.
Our systems deposit flat surface coatings with metal and carbide coatings of higher quality, five times faster at one-half the cost compared to conventional HVOF equipment.
HVAF Coating Features
Kermetico High Velocity Air Fuel (HVAF) equipment deposits coatings of exceptional quality.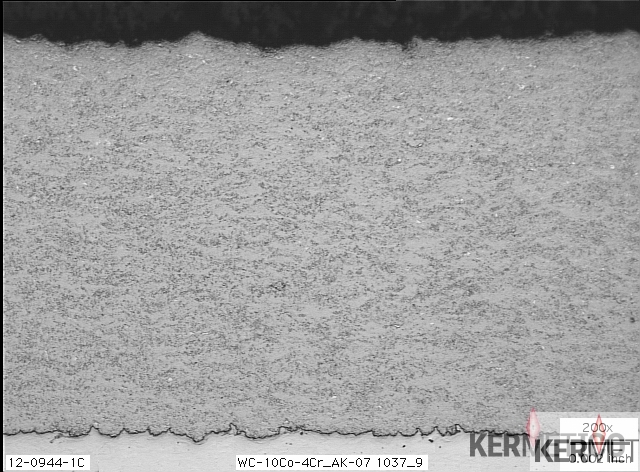 Kermetico HVAF tungsten carbide coatings are superior to HVOF WCCoCr rivals regarding both wear protection and production cost.
The high velocity of the in-flight particles (higher than 1,000 m/s | 3,300 ft./sec.) in the Kermetico HVAF process enables the production of very dense coatings with high bond strength.
Moreover, the low combustion spraying temperature (1,960-2,010°C  | 3560-3650°F depending on fuel gas) and gentle particle heating result in minimal feedstock phase transformation and almost nonexistent elemental depletion or decomposition of the in-flight particles.
Furthermore, the replacement of HVOF-specific pure oxygen with air in the Kermetico HVAF process significantly reduces the oxide content in the deposited material, which is desirable for high-performance coatings.
You can find a comparison of main features of HVAF and HVOF tungsten carbide coatings in the spreadsheet below.
WCCoCr 86/10/4 Coating Feature
Typical HVOF
Kermetico HVAF Modes
Economy
Balanced
Ultra
Deposition efficiency, %
40-55
60-70
48-58
36-42
Hardness, HV300
1,050-1,250
1,050-1,250
1,250-1,350
1,450-1,600+
Young's Modulus E, GPa
300
400
450
450
Apparent metallographic porosity
<0.8
<0.8
<0.5
<0.3
Bond Strength, MPa (PSI)
80+ (12,000+)
Range of as-sprayed roughness, µm (µ in.)
3.5-4.5 (150-180)
1-3.2 (40-130)
Notes on Kermetico HVAF Equipment
The traditional thermal spray approach is to melt and atomize the feedstock, propel it to the surface of the target part and build up a coating by the process known as 'splat cooling.'
The Kermetico HVAF process operates differently.
We heat the feedstock material to near its liquid phase temperature without exceeding it.
Then we accelerate the particles to an optimized high velocity, and when the particles impact the substrate, there is a rapid conversion of kinetic to thermal energy that allows for the plastic deformation of the particle and a bond which we cannot accurately measure.
In the ASTM 633C bond test, the only result we get is broken glue at 12 KSI, even with 0.040" (1 mm) of WCCo 88/12.
What if you have to use HVOF for some jobs because of old specifications? You can use our Convertible system spraying HVAF or HVOF mode with the same gun after a minor hardware change.
On-site thermal spray coating
Kermetico HVAF equipment is ideal for on-site coating application.
Safety of On-site Coating
Safety of on-site tungsten carbide coating deposition depends on the equipment.
The HVOF combustion temperature is usually higher than the boiling point of a carbide cementing material, which can result in possible hazardous metal evaporation. It is especially dangerous during an on-site operation where ventilation systems could be insufficient.
The Kermetico HVAF AK combustion temperature is near most materials melting point, which preheats metals and carbides but does not evaporate them. It prevents oxidation and decomposition of the feedstock material and also keeps the air clean.
But this is not the end of a story. Consider the blasting process.
HVAF Grit Blasting a Flat Surface with Kermetico Equipment
With regular blasting, one needs 50 kg of grit per 1 m2 (if grit is not recycled), or 25 kg per m2 with recycling (collecting and using several times). In the latter case, the most favorable one, for a project of 2,000 m2 one would need 25 kg/m2 x 2,000 = 50,000 kg of grit.
It is 50 metric tons which will have to be delivered to the job site, collected and recycled as an industrial waste. Again, the most favorable case – more likely, the whole 100 tons would be needed. With HVAF blasting only 0.88 kg/m2 of grit is required. It is a 1,760 kg per 2,000 m2 project.
Typically, we apply coatings using robotic blast and spray operations.
We blast a surface with a Kermetico HVAF gun (it is extremely fast and uniform) and spray with the same gun after switching the powder feed hose and perhaps changing the nozzle.
It is much faster, more accurate and needs much less grit than manual blasting.
HVAF grit blasting also produces even surface preparation and induces less stress into the base metal.
Kermetico HVAF Thermal Spray Coating Equipment
Kermetico designs and manufactures three families of HVAF thermal spray equipment.
Convertible HVOF and HVAF equipment:
Multi-purpose HVAF AK systems, with a variety of spray guns:
Specialized equipment:
Additional equipment:
Kermetico, Inc. – HVAF and HVOF Material Science Excellence, Equipment Manufacturing and Thermal Spray Coating Since 2006
We create equipment that helps material scientists, engineers and business managers achieve their goals.
We have installed more than 60 Kermetico HVAF and HVOF systems in the USA, Europe, Japan and China.
Some of these systems are at work in Universities and National Labs, but most of them are used in production thermal spray shops.
We proudly design and produce our thermal spray equipment in California and install it all over the world.
You can visit our R&D center in Benicia to meet our designers and to see our HVAF and HVOF equipment in action.
We also deposit HVAF and HVOF thermal spray coatings for customers in North America – ourselves and through our network of partners.