HVAF and HVOF Control Console with a Tablet Operator Control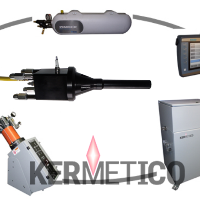 We supply our HVAF and HVOF thermal spray equipment to fit existing thermal spray infrastructure, if present, or a new manufacturing cell, and to provide the spray operator with handy tools.
Our advanced coating systems provide an easy way to upgrade from HVOF to HVAF equipment.

The HVAF and HVOF Control Console
Our Control Console consists of an Operator Tablet, Controller, Gun Ignition box and a set of cables and hoses.
The Operator Tablet is typically mounted on the wall of the operator room (a wall-mounting bracket is provided) or placed on a work table and can easily be carried around the control room and into the spray booth as needed.
The Controller is designed to be located inside the spray booth.
The Tablet and Controller are connected with a 7.5 meter (25-foot) long cable (other cable lengths are available upon request).
The system can be equipped with an optional interface to monitor and troubleshoot equipment at any authorized internet-connected device.
The IP67 Mobile Touch-Screen Tablet, Dustproof and Waterproof
The Operator Tablet is a rugged industrial computer with the Microsoft Windows CE operating system – the OS specifically designed to work with an industrial PLC. The Tablet features a 8" x 4.5" wide format touch-screen and "Soft Touch" buttons (which are illuminated industrial membrane keys) used for process control (start/stop of the gun, powder feeder, and other devices).
The Tablet has a hard-wired illuminated E-stop.
The whole device with the cable connected is rated IP67 (dustproof and waterproof when submerged under water up to 30 minutes).
The Tablet Touch-Screen Interface through the integrated PLC provides all of the functions necessary for the operator to control the spray gun, powder feeder, and peripheral devices that are connected to the PLC's electronic blocks (The PLC and electronic blocks are housed in the Controller).
The Tablet program provides many operating windows, giving an operator the interface for setting and monitoring:
the gun spray parameters
powder feeder and peripheral devices parameters
warning and safety shut-off alarms and interlocks
as well as a window for saving and uploading spray parameter files
The HVAF+HVOF System Controller with Partitioned Cabinets
The Controller consists of two cabinets mounted together and isolated from each other:
General use compartment with devices controlling the air and carrier gas (nitrogen); the electronic control block (with the PLC, electronic blocks, power supplies, relays, etc.) is also located in this cabinet.
The fuel compartment with devices controlling fuel and hydrogen; all devices and electrical connections certified to Class 1 Group A, B, C, D Division 1.
The controller is set on 4 wheels, 90 kg (200 lbs.) capacity each.
The Controller Specifications
Feature

S.I. Units

U.S. Units

Total air flow, maximum

11,400 SLPM

400 CFM

Air pressure control

Combustion air

1.4-10 Bar, accuracy +/- 0.05 Bar; inlet max. 10 Bar

20-150 PSI, accuracy +/- 0.7 PSI; inlet max. 150 PSI

Cooling air

3.4-10 Bar, accuracy +/- 0.4 Bar; inlet max. 14 Bar

50-150 PSI, accuracy +/- 2 PSI; inlet max. 200 PSI

Fuel type

Propane, propylene, MAPP-gas, natural gas

Fuel flow

250 SLPM (propane) 350 SLPM (nat. gas) at 6-10 Bar

9 CFM (propane) 12.4 CFM (nat. gas) at 90-140 PSI

Fuel pressure control

1.4 -10 Bar, accuracy +/- 0.05 Bar; inlet max. 11 Bar

20-150 PSI, accuracy +/- 0.7 PSI; inlet max. 165 PSI

Nitrogen

0- 50 SLPM, inlet pressure max. 14 Bar

0- 2 CFM, inlet pressure max. 200 PSI

Hydrogen

 0- 50 SLPM,

max inlet pressure 14 Bar

0- 2 CFM,

max inlet pressure 200 PSI

Power

108-130 VAC (5 amps) or 210-240 VAC (3 amps), 50/60 Hz, 1-phase

Ignition box outlet power

110 VAC, 50/60 Hz

Weight, Controller

112 kg

250 lbs.

Weight, Tablet

1.5 kg

3.5 lbs.

Dimensions, Tablet (suitable for wall-mount and bench-top use)

300x275x62 mm

12" x 11" x 2.5"

Dimensions, Controller

712x 610×966 mm

28" x 24" x 38"
The Kermetico HVAF Control Console Components: Ignition Box and Hoses
The Ignition box includes a high-voltage transformer enclosed in the NEMA 4 aluminum enclosure for mounting on the robot at a maximum distance of 600 mm (2-feet) from the gun.
The second electrode is grounded to prevent damage to the robot in the case a transformer or ignition wire is damaged.
All hoses have a satisfactory rating for pressure and material for each gas line.
The powder hose is thick wall tubing with grounded static-dissipating strips.
Powder hose fittings are "field-attachable" (reusable in the spray shop/lab).
Combined with the features of the High-Pressure Powder Feeder, the supplied powder feed hose provides reliable feeding of very fine powder distributions (even -10/+1 micron) with the relatively low flow of nitrogen carrier gas – under 22 SLPM.
Reliable spraying of very fine powders is an essential advantage of Kermetico HVAF equipment.
With the same jet, fine particles are accelerated to a higher velocity than larger particles and they are heated through to a higher temperature than coarse particles, thereby expanding the technological windows of the Kermetico HVAF process.
The High-Pressure Thermal Spray Powder Feeder
The HVAF powder feeder is a rotary powder feeder, which is additionally equipped with an automatic pressure relief valve assembly, activated from the control console.
The heart of the feeder's electrical controls is a digital closed-loop controller, offering precise and accurate wheel speed.
The startup and the shutdown of the feeder and the wheel RPM are remotely controlled from the control console.
The feeder has an option for manual control.
Interlocks from the control console provide a safety shutdown when the wheel RPM is abnormally low as compared to preset values, no carrier gas flow detected at the gun during ignition, or carrier gas pressure is lower than the hydrogen pressure introduced into of the powder feed hose.
The powder feeder provides reliable feeding of both coarse and very fine powders.
For example, WC-based powders as small as 1-10 microns are routinely used with this feeder when spraying with our compact hand-held or internal diameter gun using our static-dissipating powder hose.
The Powder Feeder Specifications:
Feature

S.I. Units

U.S. Units

Power

110 VAC/ 50-60 Hz/ 3 Amp – single phase

240 VAC/ 50-60 Hz/ 1.5 Amp – single phase

Working pressure rating

10 bar

150 PSIG

Canister capacity
from 3.38L (standard) to 10.45L
from 206 Cu. In. (standard) to 615 Cu. In.
Wheel speed, RPM

0.0- 32.0

Wheel speed accuracy, RPM

0.1

Weight

44 kg

97 lbs.

Dimensions, L x W x H

818 x 325 x 775 mm

32.2" x 12.8" x 30.5"
The Zimmer Fuel Vaporizer
Zimmer Vaporizer produces gas from liquid propane (Model Z40 P) or LPG-gas (Model Z40 L) by its electrical heating. Since volumetric consumption of liquid is relatively small, the supply cylinder pressure remains essentially constant.
Specifications:
Vaporizer type: dry electric; feed through.
Approvals: UL, CUL, CE, DEMKO, PED (SEP), ATEX.
Feature

S.I. Units

U.S. Units

Vaporization capacity @ 240 VAC

40 kg/hour

88 lbs./hour

Power:
100- 240 V AC/ 50-60 Hz

27.3 Amps @ 120 V AC

21.7 Amps @ 208 V AC

21.3 Amps @ 220 V AC

19.5 Amps @ 240 V AC

Heat exchanger:
Surface area

1,200 cm2

186 in2

Design pressure

17.24 Bar

250 PSIG

Proof pressure

86.2 Bar

1,250 PSIG

Relief valve set

17.24 Bar

250 PSIG

Overall dimensions, LxHxW
791x 260.1×162.7 mm
31.14×10.24×6.40 inch
Shipping weight

30 kg

66 lbs.
Kermetico designs and manufactures three families of HVAF and HVOF  thermal spray equipment
Convertible HVOF and HVAF equipment:
Multi-purpose HVAF AK systems, with a variety of spray guns:
Specialized equipment:
SL – a specialized gun for spraying low melting point metals
SP – a dedicated gun for the most efficient precious metals' deposition
STi – a specialized gun for the deposition of titanium and Ti-alloy coatings
Options:
A Grit Feeder for the grit blast preparation of parts to reduce coating cost
A Gas Permeability Tester for an instant check of a coating's through porosity
A Powder De-Duster to screen fine particles from a metallic powder
T-Record, two infrared digital sensors with an additional Tablet screen showing the temperature-time curve, "T-trend" and maximal cycle temperature for each sensor
Kermetico Inc. – Advanced coatings, HVAF and HVOF Equipment Design and Manufacture Since 2006
Kermetico produces complete HVOF and HVAF systems and sprays advanced coatings.
Since our incorporation in 2006, we have installed more than 60 HVAF and HVOF systems in the USA, Europe, Japan and China.
Some of the systems are at work in Universities and National Labs, but the majority are used in production thermal spray shops.
You can find all our thermal spray systems here or on the right panel of this page.
We proudly design and produce our HVAF and HVOF thermal spray equipment in California, USA.
You can visit our R&D center in Benicia to meet our designers and see our HVOF and HVAF equipment in action.
Print page
The Kermetico Mini-Air Powder Classifier (Metal Powder De-Duster) for a Thermal Spray Shop